EMPLOYMENT
Adrian Durban Florist employees work as a team. As an industry leader we believe in the Adrian Durban Florist way of look, style and feel in everything we do, from a professional attitude to a genuine smile that reflects a positive attitude which leads to a great working environment.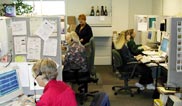 At Adrian Durban Florist, we tolerate nothing less than the best in every position. We do not categorize vertically but horizontally. We believe that a chain is only as strong as its weakest link. Adrian Durban Florist is a forward moving and thinking company. The days are not boring and the ideas and energy are always plentiful and exciting. The saying "Never Say No to the Customers" is the greatest challenge in business. It really happens here. We are always looking for the best people for our company. If this sounds like you, tell us a little about yourself. We are looking forward to your interview.
Thinking about moving to Cincinnati? Contact us online or call 800.421.0030 and ask for Kerry Durban to discuss all possibilities. Adrian Durban Florist is proud to be a drug-free workplace.
Available Positions
Floral Delivery Driver
A Job that makes everyone happy! We are currently seeking Part Time (18+ Hrs Week) and Full Time (28+ Hrs Week) delivery drivers with an excellent driving (MVR) record, a knowledge of the Cincinnati & N. Kentucky and some computer experience. We supply the van, the fuel, the flowers & the map! You supply the smile and enthusiasm!
Office Sales & Customer Care
Adrian Durban is looking for extremely motivated, outgoing, active and customer service oriented Customer Service Representatives. Part-time positions available. Blue Ash location.